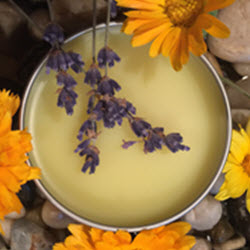 Calendula Lavender Salve
  From Our Farm to Your Skin
Our rich, soothing Calendula Lavender Salve is made from our farm's calendula flowers, essential lavender oil, organic beeswax and fine virgin olive oil.  We mix it with proper portions to get just the right consistency, and allow your skin to drink it in.  This all natural healing salve is made by hand with the greatest of care, and provides all the herbal skin health benefits of the calendula flower.  The flower has been used for centuries for a variety of skin treatments, and is know to have anti-inflammatory, anti-microbial and general skin healing properties.  We have added a touch of lavender essential oil to this salve to provide a light, soothing scent.
Uses for Our Calendula Salve
This amazing calendula herbal salve can be used in a variety of ways, and is excellent to help soothe rashes, cuts, scrapes, dry skin, bug bites, dry/chapped lips and any other skin irritations.
Calendula Lavender Salve Ingredients
Infused Calendula Virgin Olive Oil, Organic Beeswax and Lavender Oil
Packaging and Info
This salve is provided in a 2 oz tin, that makes it easy stow in a purse or pocket.
Our Calendula Lavender Salve is handmade with care from only the best ingredients. It is fantastic for the skin and can be used to soothe any skin irritation, or just to make your skin silky smooth and soft. Ingredients are all natural, and include calendula infused olive oil, essential lavender oil and organic beeswax.