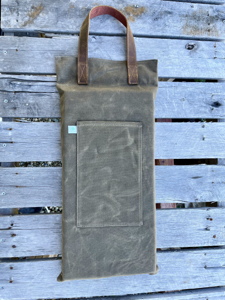 The Garden Kneeler: A Friend in the Garden
Garden Knee Pads, Garden Kneelers and Benches
Spending log hours in the garden is what I love to do, but wet knees covered with dirt and sore knee caps just doesn't cut it. A garden kneeler can protect your clothes and provide a soft landing in rocky or bark covered gardens. There are a number of products on the market, and depending on your needs, it can be hard to find the right kneeler. Here is a quick summary of the options below:
Garden Kneelers
The typical garden kneeler pads range from a simple slab of foam with a carrying handle, to fancier models with a cover, typically waxed canvas, that provide not only function but some style :). Plain foam can be a little dangerous in we condition,, and cheap models that don't have texture can be slippery when wet. Also, without protection, foam garden kneelers will get divots and tear over time, leaving a mess and absorbing moisture.
Here at Celtic Farm, we use waxed canvas kneelers. The canvas cover is waterproof, and provides protection for the foam kneeler pad, and provide long lasting durability and cushion for your garden tasks. They also have a pocket for tools and look great!
Garden Knee Pads
If you are an active kneeler, and doing project where you are constantly moving, or moving on the ground, garden knee pads are probably best. Because the pads are strapped to you, you can travel easily and move about at your whim. The only problem I have found with this type of kneeler is that the straps tend to dig in and loosen over time so you are constantly adjusting them.
The Kneeler/Stool
These are a neat device for the garden and provide a kneeling surface, and can be flipped over to use as a stool. The concept is great, but they can be quite hazardous in loose soil as a stool. They are also quite heavy to lug around the garden. The benefit is pockets to carry tools, and its multi-use.
Which is the best kneeler for you?
Just a short article with some feedback on the garden kneelers I have used over the years. You can take a peek at our garden kneelers at the link below:
Tags: garden kneelers, gifts for gardeners, knee pad for gardeners