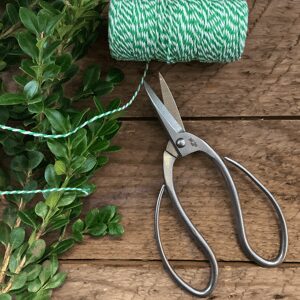 The Garden Scissors: My New Favorite Tool
Call Them Garden Scissors, Secateurs or Snips
Ok, I have to admit, when I first used them out in our fields, I felt kind of funny. It's like bringing a steak knife out to do cut lavender, right? Were they really up to the demands of the flower farm? We decided to evaluate a bunch of different garden scissors to find a set of these so called garden secateurs to see which ones we would put in our gardening tools section of our store. We used them to snip, cut, and prune. We ended up with a stainless steel garden snip that had a smooth action, was light and had nice small handles. Why stainless? Other garden scissors we tested (the black metal ones), rusted when they got wet, and became stiff, and did not fare well in the garden and farm environment. We love these scissors, for the following reasons:
They are beautiful. You have to look stylish when out and about 😉
The scissors are easy to hold and manipulate. When out in the fields, you need to be able to maneuver and snip at odd angles.
They are light. If you spend hours in the garden clipping, your hands can get tired from using the wrong, heavy garden pruners.
They remain sharp. Stainless steel scissors don't rust and remain sharp even after snipping flower after flower, or stem after stem.
They fit perfectly in our apron. What good are garden pruner/snips if you can't have them with you all the time. They fit perfectly in our garden apron.
Check out these great snips for yourself or a garden gift recipient and enjoy them today. You can read more about our garden tool sets here: Garden Tools and Gardening Tool Sets. You can also read more here: Garden Tools
Read more about the best gardening tools and gifts here on our site or in our shop.
Tags: garden snips, gift for florist, harvesting flowers, no rust garden tool, secateur