Names of Gardening Tools
Garden Tool Names and Nicknames: A Guide
Do you know the name of your favorite garden tool?
Garden and farm tools have been around since the dawn of mankind, and garden tool names can be strange and in some cases not readily apparent. There can be minor differences, and for serious gardeners, the right tool can make hard work easyHere is a list of the most interesting gardening tool names, and a bit about their history.
Gardener's Multi-Tool – one of my favorites, this "Swiss Army. Knife" for the garden is a wonder in the garden and contains several tools that any gardener would love to have always on their side.
---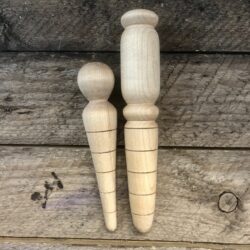 The Dibber or Dibble – One of the most unique gardening tool names, the dibber or dibble is a seed starting/bulb planting tool that has been used in some shape or form for centuries.
---
The Hori Hori – the name for a Japanese Garden Knife/Tool is Hori Hori, and is literally the Japanese word for "dig, dig". It is one of the best garden tools, and comes in all shapes and sizes.
---
The Hand Trowel – this garden tool is often called a shovel, but its proper garden tool name is the hand trowel.
---
Hand Cultivator – the hand cultivator looks like a bent fork, and is used for weeding, smoothing and spreading in beds
---
Garden Tool Hand Fork
Garden Hand Fork – the garden hand fork is a small version of the garden fork and is great for weeding and digging up roots and tubers.
---
Garden Scissors – also know as garden snips or shears, these are great all around tools for gardentasks and chores. The narrow bladeslet you get just the stem you want, and they can be used for string and ribbon cutting as well.
---
Secateurs – secateurs or pruners for one hand, are the tool of choice for pruning and clipping flowers in the garden. Able to cut all kinds of stems, from the tough rose to the thin Batchelor Button, they are a handy garden tool.
---
The Garden Scoop – I have to be honest, this is one of my favorite garden tools. If you have ever tried to scoop soil with a trowel, you know you lose half of it from bag to pot. This tool allowsfor easy "scooping" of soil inlarge amounts.
---
Garden Auger
Garden Auger – An auger looks like a large drilll bit, and is used to drill holes in soil. I've never used one, but it would seem to be a slow method 🙂
---
The Spade
Spade Shovel There are main kinds of shovels, the spade and the flat head. The spade shovel is named for the shape of its head, and is primarily used for breaking ground and digging.
---
Garden Fork Tool
The Garden Fork This garden tool is known by many names, and has as many uses in gardening. From loosening soil to digging up bulbs and tubers, it is one of the gardener's best friends.
---
Post Hole Digger
Post Hole Tool When putting in a fence, a trellis post or digging any other hole, this handy garden tool can be a useful partner out in the garden and landscape.
---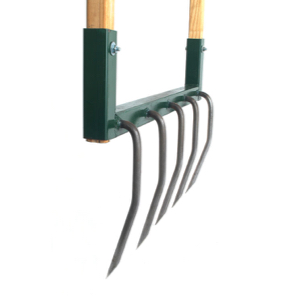 Broadfork
Broadfork – the broadfork is an age old tool for breaking and loosening soil. It uses the wieght of the operator and the leverage of the long handles to go deep and do its job.
---
Aerator
Aerator An aerator is a tool that is used to get air and water down deeper in the ground. It takes many forms, but the main job of this well named garden tool is to provide roots what they need: oxygen.
---
Tiller
Tiller A tiller, aka rototiller, is a tool that breaks up the soil with a set of rotating blades. There are several kinds: rear tine, mid-tine and rear tine. The tine location affects the soil depth and transfer of. power to the breakup operation.
---
Disc Harrow
Disc Harrow – the disc harrow is a towed garden tool that turns and breaks up soil. It can either have serrated or smooth edges, and tills quite well.
---
Spreader
Spreader A spreader is a tool for spreading seed or fertilizer on a farm or in the garden.
---
Potato Fork
Potato Fork A potato fork looks like any other gardenn fork from a distance, but when you look up close the tines are flat and blunt at the tips. This prevents damage to the potatoes when digging.
---
Flat Head Shovel
Flat Head Shovel the flat head shovel, like its pointy tipped spade brother, is used to scoop soil or other medium when soil has already been broken
---
Loppers
Loppers Think fo the garden lopper as a big pruner, or secateur, with leverage for big cuts. This long handled cutting tool is mostly used for tree limbs and thick branches.
---
Garden Hoe
Garden Hoe – the hoe is one of the oldest tools around and is used for many things: moving garden soil, digging, covering seeds and bulbs, and weeding.
---
Sickle
Sickle – The sickle is a tool for cutting high grass, weeds and crops. Its curved blade provides more surface area for a cut, and is an efficient hand tool for the task in the garden.
---
Flame Weeder
Flame Weeder– of all the weeding tools, the flame weeder is my favorite. Fire is always cool ;), but this aptly named garden tool uses a propane torch to kill weeds in a "safe" for the environment method on the farm or in the garden.
---
Loop Hoe
Loop Hoe – this unique garden tool is a clever weeding tool that lets you cut the weeds below the surface level of the soil.
---
Hand Cultivator
Hand Cultivator – the hand cultivator is a multipurpose garden tool that can be used for weeding, digging and loosening soil.
---
Tractor Cultivator
Tractor Cultivator – the tractor cultivcator is a farming and gardening tool used to breakup soil and eliminate weeds. It is the big brother of the hand cultivator.
---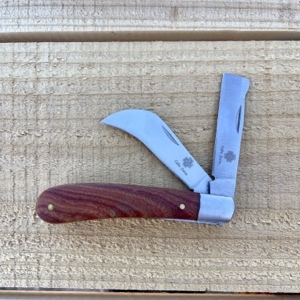 Propagation Knife
– This specialized knife has many gardening uses but is primarily used for propagation of plants and trees.
Buy or Shop
---
L Weeding Tool – this is one of the best hand weeding tools. It has a sharpened blade tipe, and can be used for craxks and weeding in the garden in tight spaces.
---
Hand Rake – for cleaning up raised beds, this tooll is amazing for getting around in tight spaces. We use it to clean up leaves, fallen flowers and more.
That's a quick set of garden tool names. Check back for more unique names.