Names of Gardening Tools
Do you know the name of your favorite garden tool?
Garden and farm tools have been around since the dawn of mankind, and garden tool names can be strange and in some cases not readily apparent. Here is a list of the most interesting gardening tool names, and a bit about their history.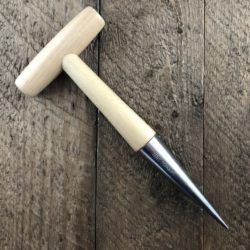 Dibber or Dibble
The Dibber or Dibble – One of the most unique gardening tool names, the dibber or dibble is a seed starting/bulb planting tool that has been used in some shape or form for centuries.
---
Hori Hori
The Hori Hori – the name for a Japanese Garden Knife/Tool is Hori Hori, and is literally the Japanese word for "dig, dig". It is one of the best garden tools, and comes in all shapes and sizes.
---
Garden Tool Hand Trowel
The Hand Trowel – this garden tool is often called a shovel, but its proper garden tool name is the hand trowel.
---
Hand Cultivator
Hand Cultivator – the hand cultivator looks like a bent fork, and is used for weeding, smoothing and spreading in beds
---
Garden Tool Hand Fork
Garden Hand Fork – the garden hand fork is a small version of the garden fork and is great for weeding and digging up roots and tubers.
That's a quick set of garden tool names. Check back for more unique names.