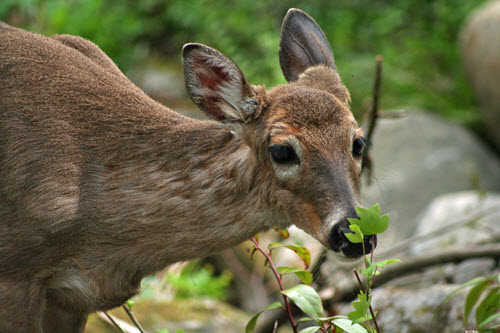 Keeping Deer and Rabbit Out of The Garden
Ok, I know, I know, another post on keeping my garden safe from deer and rabbit. We live on a very open property in the Sierra Nevada Foothills, and there are quite a few deer families and jack rabbits that roam our property. I did not want to clog up our view with added fencing, but wanted to make sure I kept the furry critters away from my dahlias and other flowers this year. In my first post, Homemade Garlic Deer and Rabbit Repellent, I talk about protection for my garden using a garlic, cayenne pepper and egg spray. This works like a charm, but I wanted to add an additional deer and rabbit fencing as an outer layer of protection. I came up with an idea to combine fishing line and randomly placed shiny mylar ribbon to create an invisible fence.
I bought some wooden stakes at the Home Depot and placed a few screws into the wood at 1′ and 4′. I put several of the stakes on the perimeter of my lower field to enclose the planting area. This was the start of my deer fence. I then took the monofilament fishing line and ran it from stake to stake, looping it around the screws as I walked.
Then, at about 8′ intervals, I tied the mylar strips onto the fishing line. If you can't find mylar, just use tinsel, or aluminum foil. The shiny strips move in the breeze and reflect light at night, and the cautious deer/rabbits avoid the area. Since placing the deer fence, I have yet to see any deer tracks in my garden. Hope this helps!! To help I have links to Amazon for the products I used in the article, click on the picture to buy and protect your garden: