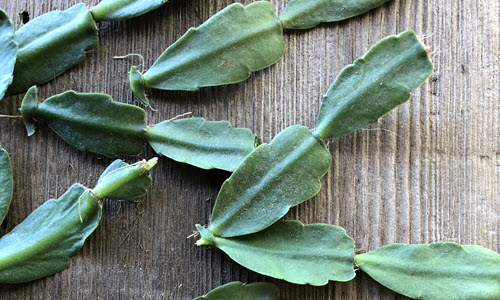 Christmas Cactus Propagation
How to propagate a Christmas Cactus
The Christmas Cactus, aka Schlumbergera, is grown widely and is loved for its beautiful winter blooms.  The plant makes a great holiday gift for friends and family, and propagating this plant can produce beautiful offspring for giving. Propagating Christmas Cactus is easy, and this succulent variety takes readily to new roots.  See the simple instructions below on how to root your Christmas Cactus cuttings.
Rooting Your Christmas Cactus: Step by Step
First off, you will need to take some cuttings from your parent plant.  Simply take some Y-shaped cuttings from any growing tip, and take at least 3 segments.  You can just pinch off your segments.
Although not required, most horticulturists advise letting these cuttings sit for 1-2 days is a cool, shady place to let the ends callous over.  This can protect the end, prevent rotting and also increase propagation success.
While your cuttings are sitting, prepare a home for them that includes a mixture of peat and sand.
After your cuttings have waited their proper time, dip the ends in rooting hormone, and stick your cactus into the medium.  You should push them about 1/2 a segment into the potting soil.
Water them sparsely, and in 2-3 weeks you should see new growth at the tip.
That's it!  After about six weeks, transplant your cacti into its final home and watch it grow.

Tags: christmas cactus, propagating, propagating christmas cactus, succulents