Lavender Oil Uses
Essential Lavender Oil for Health
As we continue to grow and extend our farm, I am really digging into the uses and background of everything we grow. Lately in the "lab", I have been experimenting with Lavender Oil in sprays and salves. The essential oil that is distilled from many of the different lavender varieties is most commonly know for its relaxing and calming effects on the body, both physically and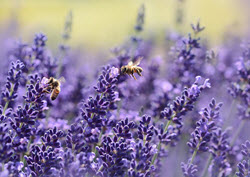 emotionally. It is also highly known for its skin uses, and can be used to cleanse cuts and scrapes, reduce irritations and can be applied for overall skin health. Here are 10 ways to use essential lavender oil in your day to day life:
Relaxation – take a few drops of lavender oil and rub it on your palms, wrists, feet or anywhere else on the body. Deeply inhale several times to draw the calming scent.
Sleep Aid – Lavender's scent is known to aid sleep, and soothe nerves. Use a Lavender spray that is part oil, part witch hazel and part water to spray linens and pillows to drift off.
Burns – putting a few drops of oil, or a Lavender Calendula salve on a burn will reduce pain and redness and help in the healing process.
Cuts and Scrapes – Lavender oil and salves can provide a soothing, healing effect.
Laundry – spray your freshly washed towels and clothes to make them fresh throughout the day.
Insect bites – Lavender salves can take away the sting and itch for mosquito bites and bee stings.
Chapped/Dry lips – using oil or salves on dry chapped lips will help them deal and add moisture.
Headaches and Migranes – Lavenders aromatic powers can help alleviate a headache.
Acne – oil and salves of lavender can help reduce acne, and the redness of blemishes.
Slow Aging – there is some dispute, but many experts agree that the antioxidants found in Lavender slow the aging process.
Just a few uses for this amazing plant!

Tags: essential lavender oil, healing lavender, health uses for lavender, lavender oil uses