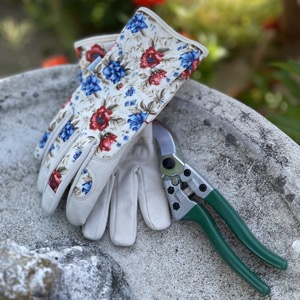 Finding the Best Gardening Gloves for You
A Comprehensive Garden Glove Guide
Gardening is a rewarding experience, both for your soul and your surroundings. But, like any skill-based activity, it demands the right tools for optimal results. One of the most underrated yet essential tools in gardening is a good pair of gloves. A well-suited pair of gloves can drastically improve your gardening experience by offering protection, dexterity, and comfort. But with so many options available on the market, how do you choose the best pair for your needs? In this blog post, we'll explore the various factors you should consider when looking for the perfect pair of gardening gloves.
Material Matters: Types of Gloves
Leather
Leather gloves are the classic choice for many gardeners. They're durable and offer excellent protection against thorns, sharp tools, and even some chemicals. However, they might not be the best choice for tasks that require fine motor skills like seeding.
Cotton
Cotton gloves are usually lighter and more breathable but provide minimal protection. They're ideal for lighter tasks such as planting flowers and light weeding but are a poor choice for handling roses or other thorny plants.
Rubber or Latex
Rubber or latex gloves are excellent for water-intensive tasks. They offer solid protection against chemicals but can become uncomfortable due to reduced breathability.
Nitrile Coated
Nitrile-coated gloves are a popular choice among gardeners. They offer good protection and dexterity, are often breathable, and work well for a variety of tasks.
Microfiber – the best of both worlds
what if you could have all the benefits of leather, no impact on the environment, and a lightweight and comfortable package? Microfiber gloves are combination of cotton and spandex and fit, no pun intended, like a glove. They are the latest and greatest invention in gardening and come and beautiful colors and they're very flexible for any gardener.
Size and Fit
A poorly fitting glove can cause more problems than it solves. Here are a few tips to find the perfect fit:
Finger Length: The glove fingers should not be too long or too short.
Palm Width: You should be able to make a fist without feeling any tightness.
Wrist Closure: Consider gloves with a velcro or snap wrist closure for added security.
Try Before You Buy: Whenever possible, try on different sizes to find the best fit.
Specific Needs
Thorn Protection
If you frequently handle thorny plants, opt for gloves with reinforced fingertips and palms. Leather is often a good choice for this.
Water Resistance
If you're often watering plants or working with damp soil, look for gloves made from water-resistant material like rubber or latex.
Sensitivity
For tasks requiring more dexterity like seeding and pruning, consider nitrile-coated gloves or snug-fitting cotton gloves.
Durability
For heavy-duty tasks, durability is key. Reinforced leather gloves are often the best bet for tasks like digging or handling heavy tools.
Additional Features
Breathability: Mesh inserts can help your hands breathe.
Touch Screen Compatibility: Some modern gloves offer this feature.
Machine Washable: For easy cleaning.
Where to Buy
Gardening gloves can be purchased at garden centers, home improvement stores, or online marketplaces. Make sure to read reviews if buying online.
Conclusion
The right pair of gloves can elevate your gardening experience from a chore to a delight. By considering your specific needs and understanding the different types of materials and features available, you can find the perfect pair that's just right for you. Happy gardening!
If you found this post helpful, don't forget to share it with your fellow green thumbs!