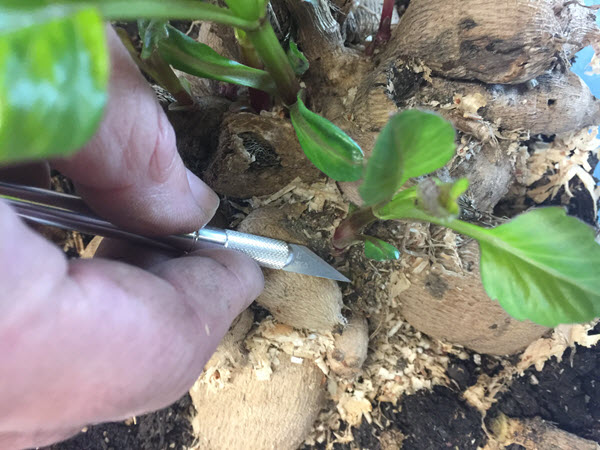 Propagating Dahlias
Cuttings and Dividing Tubers: Dahlia Propagation
Starting to propagate my dahlias this week, and using a couple of techniques. In this article i will outline how I am taking tuber cuttings to multiply my stock. First off, at the beginning of my season, i put my tubers into containers indoors, and cover them about half-way with potting soil so i can catch all the action. Depending on the type, and the warmth, it usually takes a few weeks before the eyes start sprouting, and another one or two before i can start propagating the dahlias. Below is an overview of the technique:
Once the tuber has a number of sprouts, I select ones that are 3 or 4 inches in height for my cuttings.
2. Once I have selected a Dahlia shoot with two sets of leaves, I then use a sharp instrument (Exacto Knife), to take a cutting. Note: You want to get a bit of the dahlia tuber at the base to insure the best chances for rooting. 3. I take off the bottom set of leaves once I have the cutting. 4. This step is optional, but if you have rooting hormone, it can aid in getting the dahlia cutting to root more quickly. 5. Finally, take your cutting and place it in a mix of soil and vermiculite. The loose soil will give roots free reign, and encourage growth. Note: I also apply bottom heat and cover the cuttings with plastic to create a complete propagation environment. In about two weeks or so, the baby Dahlias will root. You can check by gently tugging on the cutting.
Tags: dahlia cuttings, dahlia propagation, dahlia tubers, growing dahlias, propagating dahlias