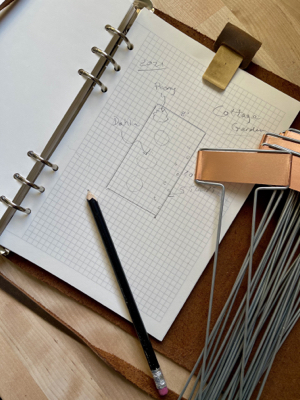 The Garden Journal: The Most Valuable Tool A Gardener Can Buy
How to use find and use a gardening journal
I always have way too many projects going, and tend to jump from project to project. In my business life I have created a system to track my open projects, items and To Dos. As our farm and gardens have grown, small projects have turned into large ones, and keeping track of my garden, experiments, seedling and the rest has required the use of one of the most valuable tools you will ever purchase as a gardener: A Gardening Journal.
What to look for in a Gardening Journal/Diary
Okay, no I am not going master of the obvious here, but take it from experience, a quality journal has several traits and qualities. Some may argue a spiral notebook is just fine, but I will argue that those will get soggy, and the lines run ;). When I built out our garden journal framework, I knew that we needed several things:
Heavy Paper Pages – your journal will get wet and dirty. The wind and weather will blow your pages and age them. Thick paper journal pages will keep them usable and readable.
Non-paper Cover – you will set it down on a wet bench or soggy ground. A leather or other durable cover on your journal will provide some protection.
Ringed Binding – having the ability to swap, remove, archive and add page types and dividers will provide enhanced organization and variety.
Page Types – having multiple types of pages is really handy. We have graph paper for plotting and measurement, lined paper for notes, checklist for to do items and calendars to plan and schedule.
Page Marker – high quality planting journals and diaries come with a page marker to remember where you left off.
How to Use The Garden Journal
I think of my gardening journal as the brain of my planting efforts. Essentially its a log of everything I do in our garden and on our farm. Here are a few items I put into my journal:
Planting Dates
Sources of seed and/or bulbs
Fertilizing Schedules
Plans for new garden sections
Experiments
Variety names and locations
Ideas for new garden extensions
Once you have one, you will soon call it your most valuable tool.
Tags: garden diary, garden log, garden planning, gardening journal, planters diary, planters journal