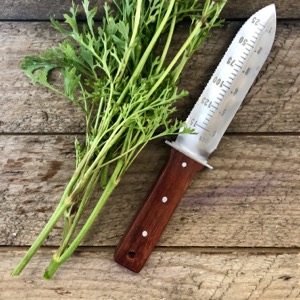 The Hori Hori Knife: Your Spring Garden Companion
10 Ways to Utilize Your Japanese Gardener's Knife
Ok, I I have to admit, the Hori Hori Garden knife has become my favorite tool over the past few years. Its flexibility and ease of use and the fact that it sits on my hip in its holster, mix it always available and ready for just about each war in the garden. Not to mention that's a descendent of the samurai sword, and makes me feel even more like the garden warrior that I am ;). In this post I'll give a quick list of uses for the Hori hori that you may know or may not but can definitely help you tackle all your gardening chores.
Propagating and Dividing Plants
this is one of the best uses in my opinion for my Japanese gardening knife. It's serrated blade and long handle help me get leverage and split tubers and root punches with ease. It can cut, sever, split and divide within easy flick of the wrist. It also allows you to cut off excess root growth to make your divisions ready for planting and give them the best possibility of success in the garden.
Digging Up and Moving Plants in the Garden
We are always moving and relocating plants throughout our garden and on our farm. The Hori Hori allows for rapid digging and severing of long roots making moving plants easier in providing the cutting And digging capabilities required for this effort. Is also cuts through thick tree roots in a jiffy, helping you untangle and release your designated plant.
An Amazing Weeding Tool
I love spring, the growing season everything is green and lush and growing at a fast pace. But not only are my plants and flowers growing, but also I most hated enemy: the weed. We have many paths of decomposed granite throughout our property and the we'd love to sink in the roots and they're almost impossible to pull out by hand. The Japanese digging knife is perfect to get just deep enough to rip out the route as well as the weed plant itself.
Planting New Plants
Hori Hori literally means "dig dig" in Japanese and digging new holes especially for smaller plants, is simple with the rounded and curved blade of the Hori Hori. I use it not only to dig the hole, but also to break up the root ball, and cut routes that may be grown through the holes in the bottom pot.
As A Soil Scoop
The cupped blade I'm so hori hori knife provides a small scoop for soil, fertilizer, compost, or vermiculite. I use it at my potting station as a quick and handy wait to move soil into a new pot or add needed fertilizer.
For Irrigation and Drip
I recently purchased a fancy and expensive drip irrigation tubing cutter, but I leave it all over the garden and the farm and can never find it when I need to use it. the Hori hori serrated blade is a quick and easy way to cut quarter inch up to three-quarter inch irrigation and water tubing. I use it constantly for this purpose, as I am always running new irrigation tubing runs.
Cutting Landscape Fabric
we use landscape fabric all over the farm to reduce our weeding burden, and to mulch many of our plants. The Hori Hori makes a simple chore of cutting holes in new landscape fabric or removing old landscape fabric. The serrated blade cuts through the fabric and leaves a clean cut.
As a Row Marker
When I plant my seed rows I like them to be street and typically use the seed line with garden twine to guide my plant. I run the line between two knives, one at each end of the road. The knife goes easily into the soil in the hole at the top makes a simple path for the garden twine to be knotted.
Opening Soil and Amendment Bags
There is nothing better than plunging you soil knife into a fresh bag soil, compost, or other amendment and smell that healthy, rich earthy gold.
Measuring in the Garden
Measuring planting depth and plant spacing has always been a guessing game. With the labelled blade of the Hori Hori, planting depth is measured as you are digging, and it works like a charm.
So that's just a quick brain dump of how I use this wonderful tool. If you don't have one, get it today here:
Hori Hori – Our Best 5 Star Digging Knife
Tags: best hori hori, best weeding tool, gifts for gardeners, Hori Hori, hori hori tool, hori hori trowel, japanese soil knife