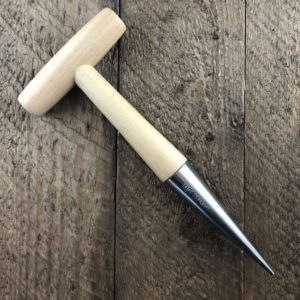 Just What is a Garden Dibber? (or Dibbler?)
The Garden Tool Used For Centuries
We've all used many different things to make holes in the ground for seeds or bulbs. I know I have. Nothing has been off limits: a stick, screwdriver, dowel, shovel handle, and yes, even a finger. But a dibber, also known as a
dibbler or dibble, is a garden tool made for this very purpose. Its first recorded use was back in roman times, usually made from old tool handles, and its design has not really changed.
Dibbers are made of all different types or materials, including wood, metal and plastic. Here are the attributes of a quality dibber in the modern age, and one any gardener would appreciate as a gift:
A t-handle for leverage in making deep holes or penetrating hard soil.
A stainless metal tip to keep going and going
Wood handle for aesthetics
Thick wood for a solid grip
I know we use ours on the farm constantly (I just used it for planting Ranunculus and Anemone today), and after a 1000 bulbs, i am thankful for this handy tool. But its not only for planting. Here are all the uses for a dibber:
To make holes in soil for seed planting
To make holes in soil for bulb planting
To break up potted plant roots before planting in the garden
To clean dirt from tubers
For leverage in propagation with large roots.
To aerate the soil around a plant
To create deep water holes for plants in hot climates
So now all you have to do is get one, and carry it in your garden tool holder, garden tote or gardening apron.
Tags: bulb planting tool, dibber, dibble, dibbler, garden tool, gardeners tool, seed hole maker, what is a dibber, wood dibber
Trackback from your site.