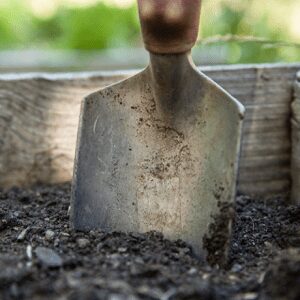 Best Tools For the Garden
Two Garden Tool Items I Can't Do Without
We've been doing a lot lately on the farm to get ready for another growing season, and have several garden and farm projects in the works, including: new irrigation system, a lavender field, new growing beds, refreshing beds in our home garden, an English garden and much more (yes I am tired 😉 ). There are two tools that are irreplaceable in our day to day efforts: The Hori Hori and the Dibber.
Let's start with the Hori Hori. This is one of my favorite tools out in the fields. I'll give you a quick summary of how I used this Japanese Garden Knife and Tool out on the property yesterday:
Cutting through stubborn roots while digging an irrigation ditch.
Digging out a sprinkler riser to replace
To put soil into a new pot
To cut lengths of drip line for a new irrigation zone
Cutting through landscape fabric for planting
As a garden trowel
To remove some stubborn weeds in the gravel driveway
The Hori Hori is really the Garden Samurai (You can read more here: Hori Hori Garden Tool), and a garden tool I wont leave in the shed.
Second on the list is one of my new favorites, the Garden Dibber or Dibble. This tool has been around since man started farming, and is essentially a tool for seed and bulb planting. It essentially provides a simple way to drill holes in your soil with minimal effort. Today, as I go out to plant, here is how I will use this unique garden tool:
To plant some new Ranunculus bulbs we just received (as a bulb planter)
To poke some irrigation holes around newly planted trees
To make holes in some new ground cover
As a seed starter to open up soil for new seed
This garden tool is light and simple to use and makes little effort out of starting you new plants in any type of soil.
You can find both of these in our shop, Gifts for the Gardener.
Tags: bulb planter, english garden tool, favorite garden tools, garden dibber, garden tool gifts, garden tools for men, garden tools for women, Hori Hori, japanese garden tool, seed starter, unique garden tools