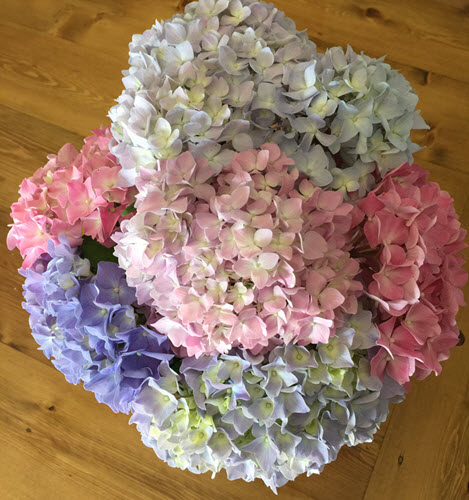 Changing Hydrangea Color
How to change the color of your Hydrangea plant
Two years ago we propagated our favorite flower, the Hydrangea.  We wanted to create a variety of bloom colors for our Hydrangea loving customers, and to grab attention at the farmers market.  Well, it worked.  How did we do it?So, unlike most flowers, the lacecap and mophead hydrangeas can changes colors.  Fortunately for us, it is as easy as changing the soil pH.  Hydrangeas are the litmus test in the flower world.  Below are the pH ranges, and resulting colors:Acid Soil (pH less than 6.0)           Blue or Purple-Blue Flowers, Between Alkaline and Acidic (pH between 6 and 7)    Purple of Bluish Pink Flowers, Alkaline Soil (pH greater than 7)    Pink and Red FlowersHow can you change the pH?  You can get a pH soil test kit to be exact, but that is not me 😉  I had pink, and wanted blue, so I wanted to lower the pH to create a more acidic environment.  To do this, I added aluminum sulfate (you could also use garden sulfur).  I sprinkled it around my hydrangea beauties, scratched it into the soil, and waited for a big rain.  To raise pH, you can use ground lime.  Use the same technique.  Good luck on changing your Hydrangea color!

Tags: acidic soil hydrangea, blue hydrangea, changing hydrangea color, purple hydrangea

Trackback from your site.