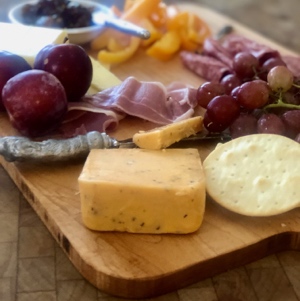 How to Clean a Wood Charcuterie Board
Clean and Season Your Charcuterie Board
Our Charcuterie Boards are best sellers, and we routinely get questions on how to care for and extend the life of a maple or wood charcuterie board. It's a pretty simple process, but needs to be done in the right sequence to be effective.
Step 1: Clean and Sanitize Your Charcuterie Board
Cleaning your charcuterie board properly is a requirement and a mandatory first step. As you can imagine, a wood surface with meat and cheese remnants is ripe for bacteria. Here are some techniques to properly clean your board.
Method 1: Soap and Water
The simplest way to properly clean a charcuterie board is with soap and warm water. Just lather up a sponge or cloth and wipe down the whole board. Wash away the soap, towel dry the surface and let it air dry. DO NOT SOAK. Soaking or washing the board in a dishwasher will cause it to warp.
Method 2: Lemon Juice and Salt
Squeeze a fresh lemon onto the board surface and sprinkle with sea salt. Take a sponge or rag and rub the mixture into the surface and let it sit for 5 or so minutes. Wash off with water and towel dry.
Tip: Be sure and always clean both sides of your board. Only cleaning one side leads to warpage over time.
Step 2: Condition Your Charcuterie Board
Over time, the surface of your board gets nicked, and knife marks are a great place for bacteria and food bits to hide. Conditioning your board makes it safer to use and easier to clean.
Method 1 : Mineral Oil and Beeswax
A mix of food grade mineral oil and organic beeswax is the best combination. The oil soaks into the scratches and nicks and will swell the wood, closing the openings. The wax provides a sealing effect to make cleaning easier. You can buy separate products, or a combined conditioner like Celtic Board Conditioner to make the process dirt simple.
Generously apply the oil or conditioner to one side and let it soak in. After about 10 minutes wipe off the excess and do the other side and edges.
Tags: cleaning a charcuterie, conditioning a charcuterie board
Trackback from your site.