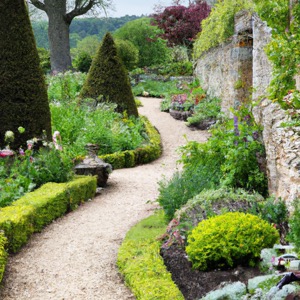 The English Garden: 8 Core Attributes
8 Elements that define the English Garden
The English garden is a beloved style of landscaping for many. With its natural and formal elements, it is a beautiful way to bring a little of the English countryside into your own home. Here are eight characteristics of the typical Brit garden:
Colorful Plantings – An English garden is filled with bright and vibrant flowers and foliage, often featuring a variety of colors, textures, and heights. The colorful plantings help create a lively and inviting atmosphere.
Structured Plantings– An English garden is often structured, with planned pathways, beds, and walkways. This structure adds a sense of formality to the garden, while still allowing for plenty of room for creativity.
Hedges – Hedges are a common feature in English gardens. Not only do they add structure and formality, they also bring height and depth to the garden.
Topiary – Topiary, or trees and shrubs trimmed in decorative shapes, is a popular feature of English gardens. These topiary pieces can be anything from trees trimmed into geometric shapes to animals and other figures.
Water Features – Water features, such as fountains and ponds, are common features . These features often add a calming and soothing atmosphere to the garden.
Stone Walls – Stone walls are a classic element of all gardens, often used to separate different areas of the garden.
Statues and Ornaments – Statues, ornaments, and other decorative pieces are also a common feature of English gardens. These pieces can be used to create focal points and add a unique character to the garden.
Seating Areas – Seating areas, such as benches and chairs, are a great way to enjoy the garden and relax. These areas provide the perfect spot for entertaining friends or simply enjoying the beauty of the garden.
The garden is a timeless style of landscaping that can bring a little of the English countryside into your own home. With its colorful plantings, structured plantings, hedges, topiary, water features, stone walls, statues, ornaments, and seating areas, the garden is a beautiful way to create an inviting and tranquil environment.
More Links:
Tags: english garden, formal garden, what is an english garden