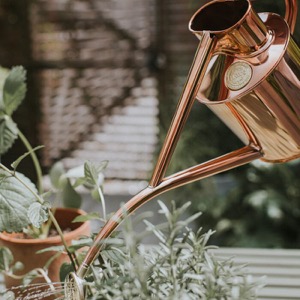 A Copper Love Affair: How an English Watering Can Sparked My Obsession with Copper in the Garden
A Gardening Gift for the Ages
Once upon a time in my verdant little haven, I received a gift that would change the way I looked at gardening forever. It was a Haws English copper watering can, and little did I know, it would spark an obsession that would weave its way into the very fabric of my green sanctuary.
In this blog post, I'll share my love story with copper in the garden, from the enchanting allure of that first Haws watering can to the undeniable elegance of copper plant markers and tags, which only grow more beautiful as they patina over time.
The Gardening Gift That Started It All: The Haws English Copper Watering Can
My journey began on a sunny day when a mysterious package arrived at my doorstep. Unwrapping the gift, I was met with the most enchanting sight – a Haws English copper watering can, glimmering like a treasure from a fairy tale. I was immediately smitten.
As I began to use this magical watering can, I noticed how it brought a touch of elegance to my everyday gardening routine. The copper was not only beautiful to look at but also durable and functional. It was love at first sight, and I knew I had to explore the world of copper garden accessories further.
Copper Plant Markers and Tags: A Love that Grows with Time
As I continued my quest for copper treasures, I stumbled upon a collection of copper plant markers and tags. These delightful little markers seemed to call out to me, promising to add a touch of whimsy and charm to my garden.
I couldn't resist, and so I adorned my beloved plants with these gleaming tags. With each passing season, I marveled as the copper developed a unique patina, telling the story of my garden's growth and evolution.
The patina on copper plant markers and tags is truly a sight to behold – starting as a warm, reddish-brown hue and gradually transforming into a majestic, verdigris green over time. This natural process only adds to their appeal, making them an essential addition to any gardener's collection.
The Benefits of Copper in the Garden: A Love that Runs Deep
As my love for copper in the garden grew, I began to uncover the many benefits that this enchanting metal has to offer. Not only is copper naturally resistant to corrosion, but it also possesses antimicrobial properties.
Furthermore, copper is an excellent conductor of heat, which can help regulate soil temperature – a particularly important factor in maintaining a thriving garden.
A Copper Love Affair that Lasts a Lifetime
My love affair with copper in the garden began with a simple gardening gift – a Haws English copper watering can. From there, it blossomed into an enchanting journey and as an avid gardener, I've come to appreciate the timeless beauty and undeniable charm that copper brings to my garden. As the years pass, and the patina on my copper plant markers and tags continues to evolve, I am reminded that some love stories only grow more beautiful with time.
If you haven't yet fallen for copper in the garden, I invite you to take the plunge. Trust me – it's a love affair you won't soon forget.
Tags: copper garden gifts, copper plant tags, copper watering can, haws copper