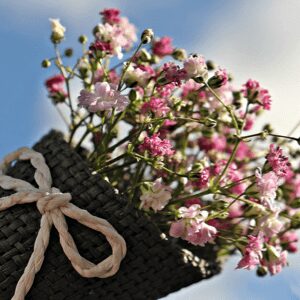 Gardening Gifts for Mom
A List of Great Mother's Day Garden Gifts
If your like me, you struggle every year with finding that great, perfect gift for Mom on Mother's Day. But have you overlooked gardening gifts for Mom as a great option? It seems that every Mom on the planet has a partial green thumb, loves flowers, or would appreciate a kind, thoughtful gift. And in today's day and age, the garden is a great place for Mom to escape and release stress. What Mother wouldn't love to spend more quality time in the garden? Why not give the gift of gardening or a unique quality gardening gift? Here is our list of winners for this year:
Gardening Tool Belt – a garden tool carrier is a garden gift for any Mother who spends her days out in the garden. A hip pocket for snips, pruners and a garden knife is handy and functional. And it will look great on Mom when she is out planting!
Garden Apron – if Mom loves to be outdoors, is an avid planter, or just likes to keep her clothes tidy while she is out and about in the flower or vegetable garden, this is the gift for her. This is one of the most popular items in our store, and a gift any mother would love, and is tops on our Gardening Gift for Mom list.
Hor Hori Garden Tool – ok, ok, most of you are saying, "A tool for Mom?". This is no ordinary tool, and its really a Swiss Army knife in the garden. Its a trowel, weeder, pruner, saw, propagator and planter all in one. Our Hori Hori is beautiful rosewood and stainless steel, light and will be a joy for any mother as a garden gift.
Garden Kneeler – let's face it, real gardener's get down and dirty, and wet soil and dirt can ruin clothes. A garden kneeler provides a comfortable and waterproof kneeling surface for Mom as she goes about her gardening chores.
Dibber – The garden dibber or dibble is the most simple garden tool for Mom there is. It has been used for centuries to plant seeds and bulbs, and is a great tool for Mom to have out in the garden. A great gift for Mother's who garden.
The Garden Journal – A space to plan and organize your gardening chores can be enjoyable and practical. A handsome vintage inspired journal can be a fantastic garden gift for Mom.
Gardening Gloves for Women – A pair of soft leather gloves is a great idea for Mom, and a gift she will be sure and use.
This is just a short and sweet list of ideas for those gardening Moms and Mothers. There are a ton of gift ideas, and here are some key focus categories:
Gardening Apparel for Mom – garden aprons, garden tool belts and gloves.
Garden Tools for Mom – Hori Horis, trowels and scoops for the garden.
Flower Bulbs for Mother's Day – dahlias and begonias can be a great spring gift for her.
Check out our online store for more ideas and combinations. Happy Mother's Day!!
Shop Mother's Day Garden Gift Selection
Tags: gardening gifts for mom, gardening mom, gift for mom, gift ideas for female gardeners, mom planter ideas, mothers day garden gifts, plants for mom, unique gifts for mom