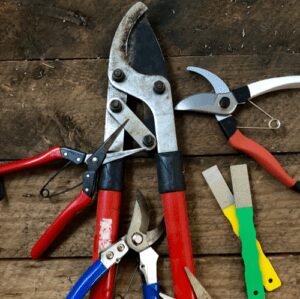 Pruner Shears – Finding the Best Pruners for You
What makes the best hand pruners, and how to buy ones that are right for you.
We have been through a lot of different pruner shears in our time gardening and on the farm here at Celtic. And I can tell you, there is nothing worse than using a bad set of hand pruners all day. What are some of the key problems with pruners? How can you avoid them and. find the best pruners for you? Well, here is a quick list of things we have experienced over the years:
Cheap Metal Pruner Blade – any pruner that is black metal is typically made of cheap steel and will rust, pit and get dents in the pruner cutting blade. We like stainless, shiny blades for all our garden pruners, and premium pruners will have them.
No leverage – Sometimes we have to cut thick stalks and branches with our pruning tools. Many pruners have straight handles with no offset, and this means no leverage in the blade, and pain in the hands.
Not Wide Enough – to cut those big dahlia stalks, or the sunflower broom handle shoots, we need an opening that can handle a decent diameter.
Heavy – low quality hand pruners weigh a ton (cheap steel).
Poor Spring – low quality pruners are not snappy when you open and close them due to a cheap metal spring.
Ok, enough of the bad stuff, the question is, how can I tell a high quality set of pruning shears? Here you go:
Shiny carbon steel/stainless, curved pruner blade.
Offset pruner handle and blade for leverage.
Ergonomic pruner handle angles to easy pressure on the wrist
Wide opening blade mouth for easy big cutting.
Stainless secateur spring.
Lightweight aluminum shear handles.
Sharp, tough cutting edge.
Smooth, quiet cutting action.
This is just a quick article on how to spot the best pruning shears when you are shopping. They will put a happy smile on any gardener's face at first use. If you want to see our recommended shear for pruning, you can find it here in our store:
Our Best Pruning Shears
Tags: felco pruners, fiskars pruners, garden secateurs, pruner buying guide, pruners, pruners for the garden, top pruners