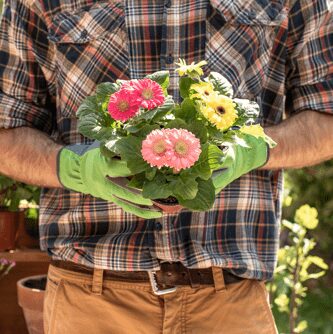 Best Gifts for Gardeners
What are some ideas for gardener gifts?
As a gardener and farmer, there is nothing better that a fantastic garden gift. But with soooo many choices online, and a ton of junk, how do you pick the one that would be the best for your gardener friend or family member? Here is a list of my favorites, hopefully one sounds good to you:
A Gardening Apron – you don't realize what you are missing until you wear a gardening apron with pockets out in the garden. It's like bringing your shed with you. If you are like me, I spend more time going back and forth to the garage and shed than I do in the garden. A couple of things to look for: several pockets, waxed canvas, double-stitched apron pockets and adjustable straps. Here is a great apron: Gardening Aprons
A Hori Hori – The Japanese garden tool, named with the Japanese term "Hori Hori" which means "dig,dig", is an amazing friend in the garden. The Hori Hori can be used to dig, weed, cut, scrape and measure. With roots back to the Samurai forges in Japan, this gardening sword will be a favorite for any gardener on your list. You can read up on the features in a quality Hori Hori here: The Best Hori Hori Tool
The Garden Tote – a garden carryall for tools, fertilizer, bulb packs, seeds and more, can be a great partner for the gardener. Our time gardening is limited, and having all you need a foot away can insure your time out there is saved for garden duties.
The Dibber (Dibbler) – having its roots (no pun intended) with the first gardener's way back in time, a dibber is a tool for making holes in the soil for seeds and bulbs. The handy tool makes quick work for gardening tasks, and modern dibbers are an attractive wood and stainless steel tool any gardener would love.
The Garden Tool Holder – pruners, scissors and clippers, also called gardening sharps, are difficult to carry and can damage standard carriers. A thick and solid leather or heavy canvas tool roll can give any gardener a safe place to store their gardening tools.
Bonsai Scissors/Clippers – garden scissors are an excellent gift for the discerning gardener, and have become quite popular for many reasons. These sharp gardening tools provide many functions out in the garden, and stainless steel scissors will last forever.
So, hopefully this quick list of gardening gift ideas can provide you with the best gift for the gardener in your life (or a gift for yourself).
Tags: best gifts for gardeners, birthday for gardener, garden apron, garden gifts, gardener gifts, gardener's apron, gift ideas for gardeners, presents for gardeners