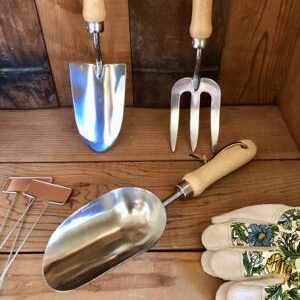 2021: Gardening Gift Guide – 8 Great Gifts
Unique Gifts for Gardeners They Will Love
We started our Celtic Farm Gardening Gift Store because the "gifts for gardeners" selection online was limited, of low quality and similar across sites. In running our small flower farm, we needed quality tools, quality garden apparel, and quality options for spreading our love of gardening…essentially, a great set of stuff for us, and gardening gifts to spread the love.
As we expand our offerings, and take feedback from our great customers, our goal is to get better and better, and provide you with a broad set of options for both women and men gardeners.
Here is a quick list of some new and old gardening gifts that are amazingly popular:
The Hori Hori – There is no tool like the Japanese Garden Knife, or Hori Hori. First crafted by Japanese samurai sword makers, this unique gardening tool is a chameleon in the garden: weeding, digging, cutting, slicing, marking, measuring and more. It is by far our best seller, and you can buy one here: Hori Hori Garden Tool and Knife.
The Apron – about 18 months ago, we worked with a handful of manufacturers to test samples of garden aprons. This was our second product idea, and we wanted a durable, fashionable apron that was functional for the gardener or florist. Since then, we have sold thousands of these great aprons, with an amazing string of 5 star reviews. This is a great gardening gift for any gardener, and an amazing "tool" in the garden.
The Journal – I wanted a better way of keeping my notes, plotting my dreams and future endeavors on the farm and for our property. The spiral notebook does little to inspire, and gives me flashbacks to school. We worked hard to find the best quality, flexible journal system that was in market, and now offer our Gardening Journal. With three types of paper, and endless expansion capability, it is already a winner on our site. A great and unique gardening gift any gardener will cherish.
The Gardner's Tool Belt – Here in the foothills of the Sierra Nevada mountains, it gets just plain hot in the summer. No, I mean like hot hot. Wearing an apron while sweating profusely during chores just doesn't cut it. So we created a "Bat Belt" for the gardener. A small gardener's tool belt, that is lightweight, waterproof, and has enough storage for your primary tools. Our Garden Tool Belt is a sure winner as a gift for any gardener.
The Garden Tool Set – "Most gardener's already have tools." Investing in a nice set of tools is rarely something a gardener will do for themselves. They'll use that cheap plastic handled trowel, or that cultivator they picked up on sale at the hardware store that has a loose head. A great gardening gift is a nice set of hardwood and stainless tools. You can view our gardener's hand tool set here: Celtic Farm Garden Tools
The Dibble/Dibbler – back when we started making items in our shop, the first item we made by hand was the dibbler. There are a ton of variations on the market, but our is made of hard maple, etched with measuring marks, and has evolved over time based on feedback from customers and use on our farm. You can see our unique quality dibbler set here: Hardwood Garden Dibbler Set
Pruners or Secateurs – having a great pruner by your side as a gardener is an absolute must, and the market is filled with junk. Our green handled pruners are stainless steel, and maintain a sharp, sharp blade. Handsome and with a handle made of aluminum, they are light and will put a smile on a gardener's face. Stainless garden pruners.
Garden Gift Box – gardeners can be a strange lot, and sometimes will forgo an update in their tools, apparel or garden in general. We have assembled some great gift sets that can provide a great kit for the veteran gardener, novice or mid-range soil lover. Browse our gift packages here: Garden Gift Box
This is just a short list of great gifts for gardeners. Take a peek at our store to see more. Gifts for Gardners at the Celtic Farm